Most Expensive Homes and Horse Properties in Colorado
It is no secret that Colorado has some of the biggest and most beautiful luxury homes in the country. Homes zoned for horses adds even more, with rustic flares and of course the land that comes along with it. The following is a list of the top 5 most expensive homes in the world (according to us!). Oh and don't forget, all of these luxury homes are for sale at Colorado Horse Property.
Gateway Colorado is a testament to the great old Colorado life, though nowadays there is great cell phone coverage in the area and the community has access to the internet. Gateway has an old general store and is home to an auto museum. To the north lies The Palisade, a three-mile (4.8-km) long butte. Most notably, Gateway is home to the Gateway Canyons Resort, one of the most expensive homes in Colorado. This beautiful resort offers kayaking, off-road tours, guided fly-fishing, horseback riding, air tours and more. In the past, the resort  hosted several foot races each year and a large bike race.
Guess what? The Gateway Canyons Resort is for sale!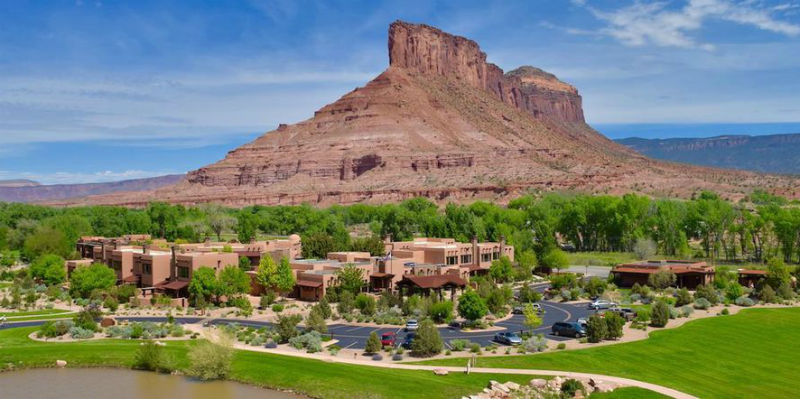 That's right, with the price tag of $279,000,000, the Gateway Canyons Resort is the most expensive horse property on our list. According to the listing, there are tons of amenities that comes with that large ticket price. "The offering includes a full-service resort, in addition to West Creek Ranch – featuring an extraordinary residence and four unique parcels of land, all creating this unique destination where humanity can pause and contemplate its relationship with nature.
The main residence boasts more than 22,000 square feet of indoor living space and 3,500 square feet of covered verandas, with eight bedrooms and eight bathrooms on four levels. Also, Gateway Canyons Resort & Spa offers seventy-two rooms that house guests who seek a place to relax, reflect, and quench their curiosity. The resort features exceptional lodging, dining, outfitting, educational programs, outdoor adventures, and the world-class Gateway Colorado Auto Museum. For more information about this extraordinary offering, please visit GatewayCanyonsProperties.com."
Listing By: Listed by Kerry Endsley, LIV Sotheby's International Realty.
This next horse property is not a full resort and spa, but it is in the town of Edwards Colorado, which is only 4 miles to Beaver Creek Resort, a ski resort with beautiful white slopes. Edwards offers a modern downtown area that was built next to the Eagle River, which is full of popular fishing spots. Downtown Edwards is called Riverwalk, and boasts many shops, restaurants and businesses. The motto for Riverwalk is "Live, Work, Play", meaning residents can do all three downtown. Edwards is also a popular camping spot because of its proximity to Sylvan Lake, which has over fifty campsites, and the National Forest.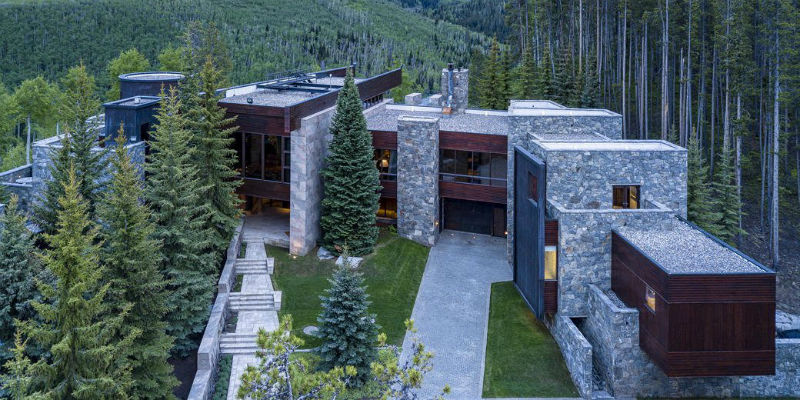 Home much will it cost you to live in this fantastic horse property? Casteel Creek has a price of $78,000,000. According to the listing, there are tons of amenities that comes with that large ticket price. "Experience the best of Vail Valley without ever leaving home at majestic Casteel Creek Retreat a 439-acre retreat nestled between Edwards, Beaver Creek Ski Resort, and Vail Mountain Club. Also, it borders 2 million acres of White River National Forest with snowcapped views of the Gore Range. 32,000 sq. ft. main home has 8 en suites, elevators, theater, pool, hot tub, gym and spa.
Also on-site are 3 apartments, 1 caretakers apartment, 2 guest homes and 2 cabins with a total of 21 bedrooms and 34 bathrooms. Can build 5 additional homes! Extensive water rights, 12+ miles of groomed paths for snowmobiles, skiing, horseback riding, hiking, and biking. Plus, a recreation building with 5 story rock climbing wall, shooting range, Olympic lap pool and Teppanyaki grille. Offering includes 12 high-performance snowmobiles, 3 ATVS, stocked trout pond, tubing hill, soccer field, indoor arena, on-site gas station, spots for helipad and meeting rooms. Fully-staffed, furnished, and turnkey."
Listing By: Listed by Kerry Endsley, LIV Sotheby's International Realty.
Our next horse property can be found in the beautiful Meeker, Colorado. Meeker is largely an agricultural community, located in the wide fertile valley of the White River. This winding river flows west, then northwest, past Meeker (site of the White River Museum), and across the broad valley between the Danforth Hills on the north and the Roan Plateau on the south. Northwest of the town of Meeker you will find the Colorow Mountain States Wildlife Area, where there is camping, hunting, hiking, horseback riding, and wildlife viewing on the 1500-acre park.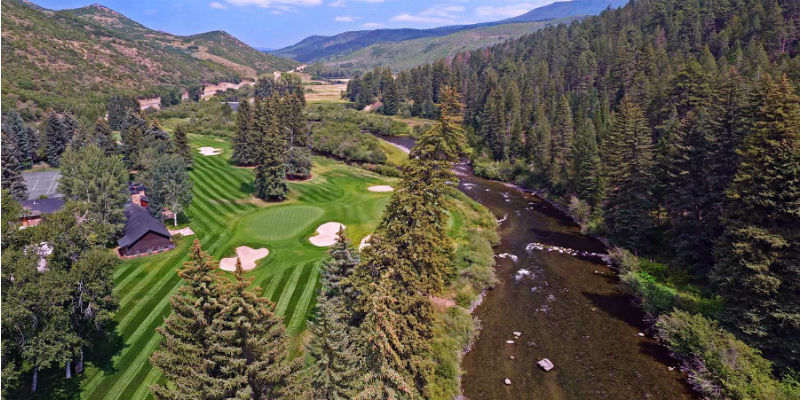 This is one of the most expensive homes in Meeker. It is right in the middle of all outdoor wonders, so that  you can enjoy the beauty that is the river, the mountains, and the forest from the comfort of your home. And with a price tag of $46,000,000, there are plenty rooms to enjoy these views from! "Westlands is one of Colorado's premier mountain recreational and retreat properties. Within its 4,603± deeded acres is some of the finest private river fishing in the mountain states, excellent big game hunting, bird hunting, an exquisite owner's home and guest quarters, extensive support buildings, four hole Greg Norman designed golf course, tennis court and immaculately maintained grounds.
Located in the treasured White River valley in Colorado's western slope near Meeker, Westlands has hosted many distinguished guests, from CEO's of large corporations to well-known dignitaries, political figures and celebrities. Also, Westlands has been carefully developed and nurtured over the last 30 years by its owner who has spared no expense and whose fine eye for detail has created a family and business retreat that is unrivaled."
Listing By: Listed by Brian Smith, Hall and Hall Partners LLP.
If you enjoy skiing, then this next horse property is going to be your favorite! Number four on our list of most expensive properties in Colorado is located in Steamboat Springs. The city is an internationally known winter ski resort destination. Steamboat Springs is home to the Steamboat Ski Resort on Mount Werner and the smaller Howelsen Hill Ski Area. Horseback riders will also love Steamboat Springs. This town is located in the upper valley of the Yampa River, just west of the Continental Divide and Rabbit Ears Pass and is full of horseback riding trails for residents to enjoy.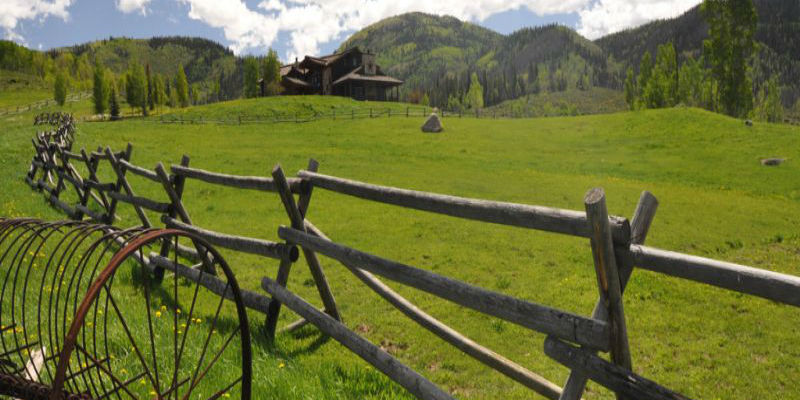 Coming in at just under $40,000,000, this horse property has one of the most expensive homes in Steamboat Springs. "Big Creek Ranch is approximately 4,850 acres of pristine ranch land. This ranch checks off nearly every box a legacy ranch buyer has: prime big game hunting, outstanding fishing along Big Creek, public land boundary, smart improvements and close proximity to a major resort area. Over 80% of the boundary is shared with the Routt National Forest and the setting is nothing short of spectacular. Tucked in its own private valley, the house provides the ideal space for large family or corporate gatherings.
The cold, high mountain and richly oxygenated waters of Big Creek flow through the ranch for over 6 miles; this is some of the best fishing you'll find in the Rocky Mountain west. Steamboat Springs, with its famous slopes, great dining and boutique shopping, is a only a few minutes' drive on paved, year-round county roads. Big Creek Ranch is arguably the finest large acreage ranch within 10 miles of a major resort area on the market today."
Courtesy of: Christy Belton, RANCH AND RESORT REALTY.
Our last luxury home for sale in Colorado can be found in Cherry Hills Village. This is one of the most expensive homes in Cherry Hills Village. There are over 30 miles of trails in this beautiful town. Cherry Hills Village also has 47 acres of park lands, and boasts two horse areas. The city is also the home of the exclusive Cherry Hills Country Club, where seven USGA championships and two PGA championships were held. The club features a championship 18-hole golf course and a 9-hole par three golf course. It also has a lap pool and eight tennis courts. Cherry Hills Village is also a great place to raise a family because it has some of the most prestigious schools in the country. These include St. Mary's Academy, Kent Denver School, and the Cherry Hills Village Elementary School.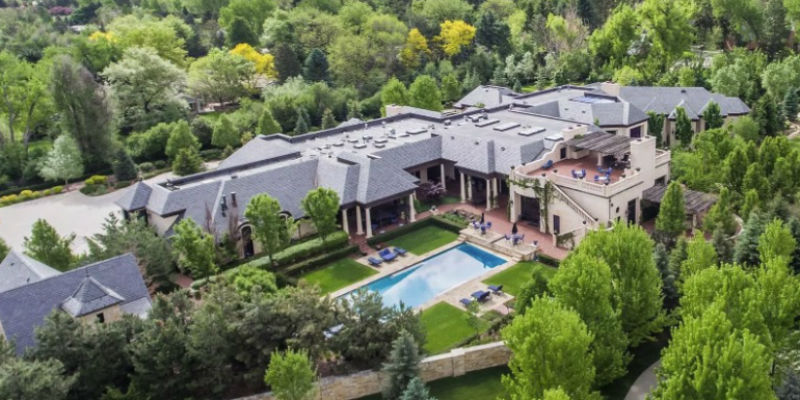 Considerable cheaper than the Gateway Canyons Resort, this horse property is a steal at $19,750,000. "Words do not adequately describe the splendor of this incredible property. Amazing entertainment options in a resort setting. Although grand in scale it is also a home for family and friends to comfortably share life and love.
Also, it has tiled rug and skylight in the gathering room imported from Italy and England. Conservatory imported from England; Awesome great room surrounded by walls of doors opening to pool and entertaining courtyards; wine grotto boasts cigar lounge; Beautiful secondary bedroom suites appointed with sitting areas and fireplaces; professional wellness studio includes racquet ball court; two lane regulation bowling plus golf simulator; Gardens and grounds are nothing less than phenomenal with multiple fountains and waterfalls; changing rooms off pool; Two bed/four bath guest cottage. Visit www.8CherryHillsParkDrive.com."
Listing By: Listed by Sandy Weigand, KENTWOOD REAL ESTATE DTC, LLC.